Episcopal Divinity School, USA
Professor Kwok Pui Lan is William F. Cole Professor of Christian Theology and Spirituality at Episcopal Divinity School in Cambridge, Massachusetts. Her work represents a paradigm shift in the historiography of Christian mission. Instead of looking at the spread of Christianity as a movement promoted by the "white man" she includes the history of local Christianities in her research. Kwok has also set new standards in interreligious hermeneutics by demonstrating that in Asia the Bible can only be read in the context of the holy scriptures of other religions. Based on her interdisciplinary approach that integrates feminist and post-colonial theories, Kwok is also highly regarded outside theological circles.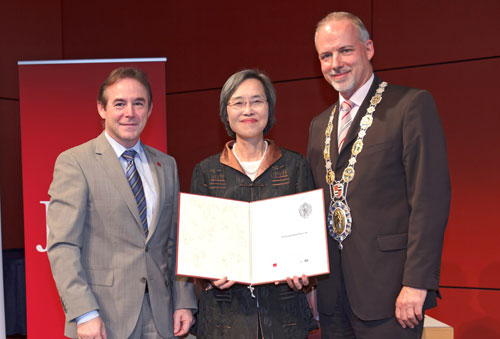 (fltr) GRC Director Professor Matthias Neubert, Professor Kwok Pui Lan, winner of the 2015 Gutenberg Research Award, and University President Professor Georg Krausch (photo: Simon Büttner, brikettfilm)
Kwok Pui Lan, born in 1952 in the then British colony of Hong Kong, received her education first at the Chinese University in Hong Kong and at the South East Asia Graduate School of Theology. She was awarded a ThD by Harvard University and holds honorary doctorates from universities in the Netherlands and Sweden. The wide recognition she enjoys was shown in her election as President of the American Academy of Religion (AAR) in 2011, the largest and most influential professional organization for religious studies and theology. Professor Kwok Pui Lan has won several awards for her academic work and for her teaching activities, including the prestigious American Academy of Religion Award for Excellence in Teaching.
By bestowing on her the Gutenberg Research Award, the GRC is honoring an outstanding representative of post-colonial feminist theology, sending a clear signal to German academic theology to be more open to intercultural issues. The university is thus also linking an internationally recognized Christian intellectual to Mainz, one who prominently speaks out in public debate. This results in far-reaching options for cooperation in the field of intercultural theology as it is represented by the Department of Comparative Religion and Missiology at the Faculty of Protestant Theology at JGU. Cooperation is already bearing fruit in the form of the promotion of young research talents and the development of intercultural teaching strategies.