Harvard University, USA
Michèle Lamont is a professor of sociology, European studies and African and American studies at Harvard University. There, she currently also serves as Acting Director of the Weatherhead Center for International Affairs. In addition to her position at Harvard, she is a fellow at the Canadian Institute for Advanced Research and a regular guest at renowned international research institutions, such as the EHESS in Paris, Tel Aviv University, Sciences Po Paris and the Berlin Social Science Center (WZB).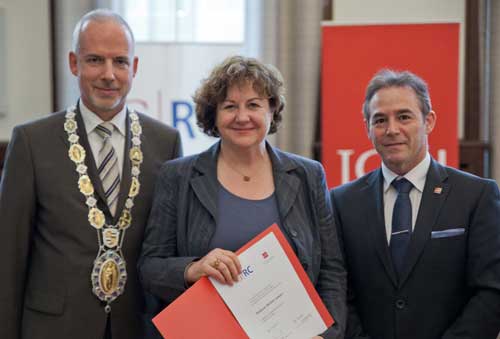 Michèle Lamont receives Gutenberg Research Award 2013 from Georg Krausch, President of JGU (l.), and Matthias Neubert, Chair of the GRC Executive Committee (r.) (photo: Simon Büttner, brikettfilm)
Michèle Lamont has published more than eighty papers, most of them in internationally acclaimed journals. Several of them were translated into Chinese, Japanese, Portuguese and German. Furthermore, she has edited twelve anthologies and has authored three influential, award-winning books that have also been translated into different languages.
Lamont is a bridging personality, being widely acknowledged in sociology, political sciences, cultural anthropology, and science studies. In this respect, her culturally comparative inequality studies are mainly related to a concept in whose theoretical development she was significantly involved: Symbolic boundaries and boundary-making stand for practices of distinction and processes of negotiating cultural hierarchies. She developed this concept in a highly original fusion of European and American social sciences and furthermore as an 'ethnologist' through the socio-scientific construction of socio-scientific elites.
Even beyond the boundaries of academic research, Michèle Lamont's expertise is well-respected and sought after. Among others, she was a member of the French government's Haut Conseil de la science et de la technologie as well as in the scientific advisory council of Sciences Po. She also works as a consultant for the World Bank and UNESCO.
Last but not least, Michèle Lamont is actively engaged in the education and advancement of young academics. She refined the institutional support services at Harvard University where she set up a mentoring program for tenure holders. Her extraordinary commitment has so far been acknowledged on two occasions: She was awarded a "Master Mentor" by Harvard University and received the Everett Mendelsohn Excellence in Mentoring Award.